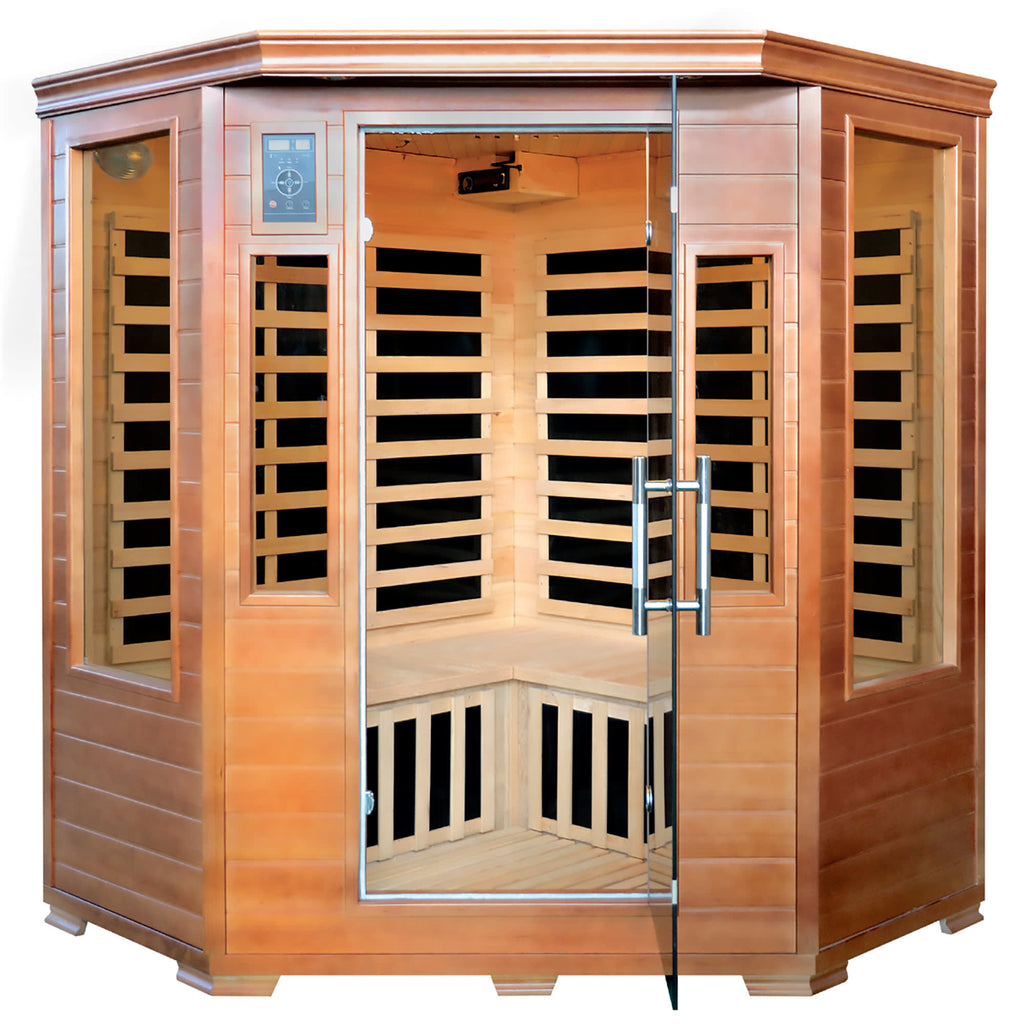 3-Person Hemlock Corner Infrared Sauna w/ 7 Carbon Heaters
Brand:
HeatWave
ITEM SA3212
Details
7 energy efficient InfraWave FAR carbon heaters (1740 watts) that produce wavelengths from 5-12 microns which are most beneficial to the human body
Constructed from "A" grade premium solid Hemlock wood with tongue and groove joinery and a quick clasp buckle assembly system
Convenient fingertip interior and exterior LED control pads for easy to adjust settings
Chromotherapy 8-color health and healing light promotes relaxation
Features built-in recessed interior reading lights, exterior accent lights, bronze tinted tempered glass door, comfort fit backrests, towel hooks, and brushed stainless steel door handle
Electronic oxygen ionizer to help purify the air and kill odor causing bacteria; Fresh air ventilation with adjustable ceiling vent and floor vent for added circulation
FM stereo with CD player and MP3 auxiliary connection with 2 speakers and pre amp
Requires 120v/20amp power; uses a non-standard UL approved plug, which may require electrical modifications
Description
The Majestic Sauna is easy to install, efficient to operate and maintain. The rich elegant looking cabinet is sure to complement the décor of any room in your home. Constructed from "A" grade Eco certified reforested Canadian Hemlock wood, this sauna features tongue and grove dual panel cabinetry and Blue Waves exclusive FAR InfraWave heat technology. This combination of unique materials translates in a quality sauna that retains heat more efficiently, increases cabin temperature faster and requires less energy. Our exclusive healthy and safe InfraWave heat technology has been third party tested and proven to emit extremely low levels of EMF. Designed to warm the body directly, not the air. The InfraWave Carbon heating panels are 30% larger than saunas heated by ceramic tubes and produce long wave FAR infrared heat. The long infrared waves penetrate 40% deeper into your body and will deliver the health benefits you deserve. This 3-person model is designed to fit perfectly in the corner of any room. With deep seating, this unit easily accommodates 3 people on the extra deep benches that run along both back walls of the sauna. Proudly backed by CE, CETL, RoHS and ISO 9001 certifications, internationally-recognized seals of quality, safety, and professional manufacturing. 7-Year warranty on wood structure, 5-year warranty on heating elements and electrical; 1-Year warranty on radio.
Attributes
Brand: HeatWave
UPC: 672875801763
Color: Natural,Clear
Materials: Hemlock
Assembly Required: Yes
Assembly Time (min): 45
# of Each: 1
Interior: # Lights: 4
Exterior: # Lights: 2
Interior: Light Type: MR11 LED
Exterior: Light Type: LED
Interior: Light Watts: 0.9watts
Exterior: Light Watts: 0.9watts
Interior: Lumens: 21-LM
Exterior: Lumens: 21-LM
Interior: Light Details: Spotlight Lamp
Exterior: Light Details: Spotlight Lamp
Power Source: Electric
Power Details: 120V
Choking Hazard: No
Interior Dimensions: 49"W x 49"D x 68.5"H
Manuals & Warranty
Warranty
Manual
Spec Sheets:
http://images.salsify.com/image/upload/s--t9YUje8B--/ooexgyhfjev5uwuzkizt.pdf
http://images.salsify.com/image/upload/s--WxVf0BWD--/xfeq9qsdh6a1yusf3xua.jpg
Recently Viewed