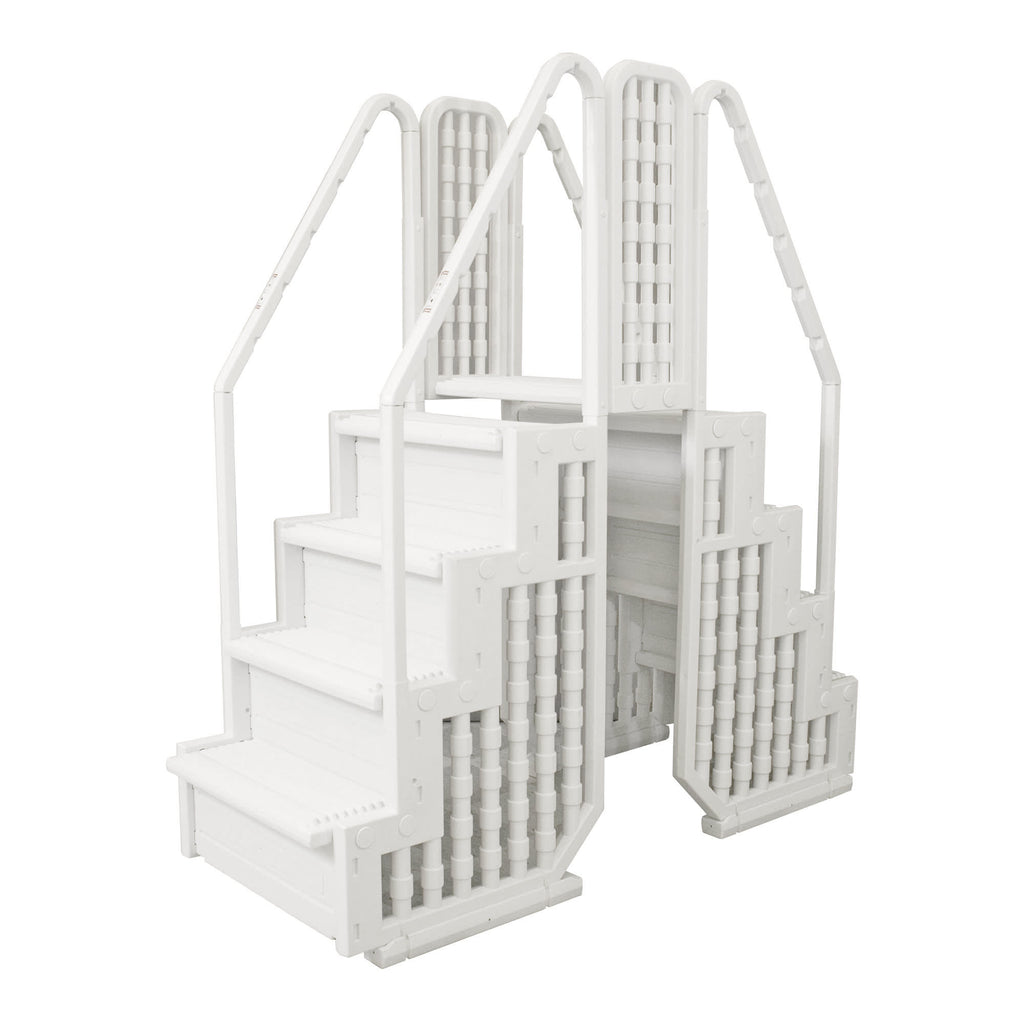 Easy Pool Step Entry System w/ Gate
Brand:
Blue Wave
ITEM NE138
Details
Designed for Use With 48 in. to 54 in. Deep Above Ground Pools
Reinforced staircase frame for increased stability and swimmer safety
4-step entry system
Gated entry with paddle lock
Anti-entrapment Barrier
Perforated steps to allow water circulation and help prevent algae growth
Description
The Easy Pool Step Entry System with Gate combines two full sets of steps to make getting in and out of your above-ground pool safe and easy. Made from non-corroding vinyl, this 4-step entry system is easy on the legs and its gradual incline means almost anyone can now use the pool. The solid dual handrails and non-skid steps ensure trouble-free use. Designed to fit either 48-in to 54-in steel-walled pools, this system features a platform bridge that protects the top rail of your pool. A self-closing, self-latching gate is lockable for added pool security. Meets all local codes for ladder enclosures and pool entry systems. The entry system supports up to 350-lbs. Backed by a 3-year warranty.
Attributes
Brand: Blue Wave
UPC: 672875900312
Color: White
Materials: Resin
# of Each: 1
Component 1: NE113 - Easy Pool Step
Component 2: NE138B - Crossover for Entry System
Component 3: NE138C - Gate
Choking Hazard: No
Step Rise (in): 10
Step Tread (in): 11.5
# of Steps: 4
Top Step H (in): 46
Outside Step W (in): 32.5
Top Platform Dimensions: 27"W x 11.5"D
Inside Step W (in): 27
Manuals & Warranty
Warranty
Manual
Spec Sheets:
http://images.salsify.com/image/upload/s--sBYN0d-m--/irtr8tvraneivkvnwagn.pdf
Recently Viewed