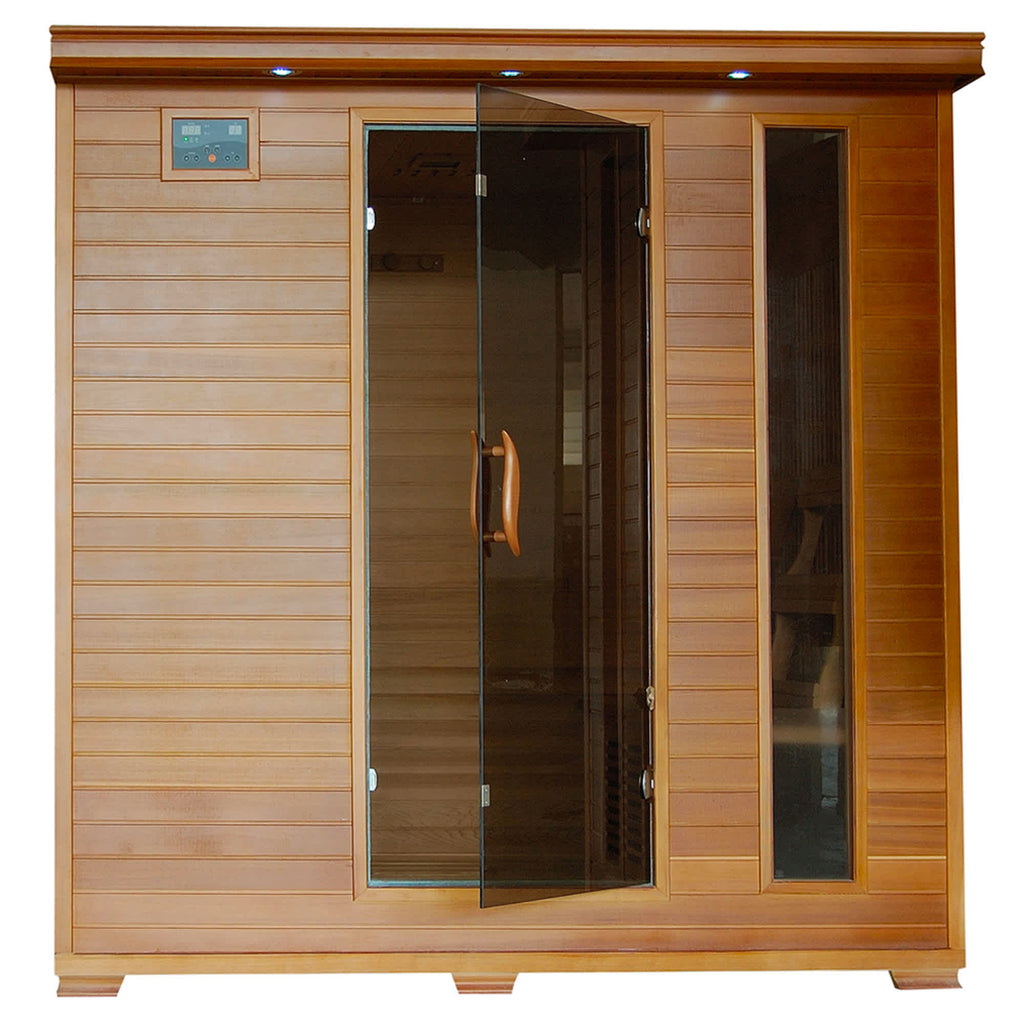 Great Bear Sauna
Brand:
HeatWave
ITEM SA1323
Details
Backed by CE, CETL, RoHS and ISO 9001 certifications: internationally-recognized seals of quality, safety, and professional manufacturing
Canadian red cedar construction insulates heat and resists warping
10 low-EMF carbon infrared heaters; 2700W; operates up to 140 degrees F
Chromotherapy lighting system
Integrated sound system with AUX input, radio, and CD player
Adjustable roof vents bring in outside air; electronic oxygen ionizer purifies the air
Dual interior and exterior LED control panels
Bronze-tinted, tempered glass
Requires 240V / 20A power
Seats up to six people
7-year limited warranty on wood structure; 5-year heating and electronics; 1-year radio
Description
Turn your home into a peaceful escape with this handsome, six-person sauna. Ten low-EMF carbon heaters blanket your body with a soothing cushion of warmth. And an integrated chromotherapy lighting system uses color to calm your mind. This sauna is constructed with Canadian red cedar, a premium softwood that's world-renowned for its heat insulating properties. With a low density and high proportion of air spaces, this softwood contains heat inside the sauna, minimizing power usage and maximizing relaxation.
Attributes
Color: Natural,Clear
Materials: Cedar
Assembly Required: Yes
Assembly Time (min): 45
# of Each: 1
Interior: # Lights: 4
Exterior: # Lights: 3
Interior: Light Type: MR11 LED
Exterior: Light Type: LED
Interior: Light Watts: 0.9W
Exterior: Light Watts: 0.9W
Interior: Lumens: 21-LM
Exterior: Lumens: 21-LM
Interior: Light Details: Spotlight Lamp
Exterior: Light Details: Spotlight Lamp
Power Source: Electric
Power Details: 220V
Choking Hazard: No
Glass Door: Tinted, 23.25-in W x 60.875-in H x 8mm thick
Interior Dimensions: 71.5-in W x 54.7-in D x 69.7-in H
Manuals & Warranty
Warranty
Manual
Spec Sheets:
http://images.salsify.com/image/upload/s--9rpf0c2U--/dcrvwh7f7edpxffuse2r.jpg
http://images.salsify.com/image/upload/s--MPnb4HaH--/swcruq1b8mqdptceszux.pdf
Recently Viewed