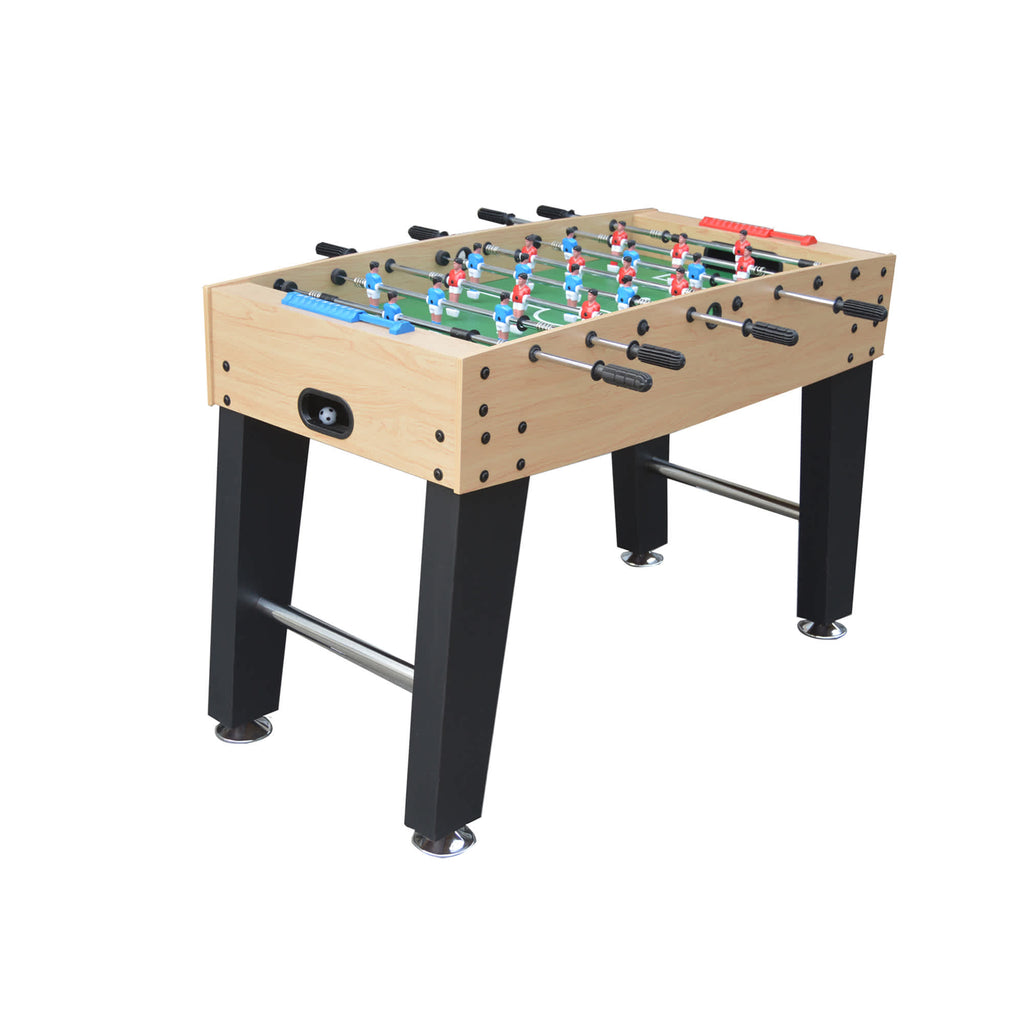 Metropolis 48-in Foosball Table with Telescopic Safety Rods
Brand:
Hathaway
ITEM BG5018
Details
Playing surface: 41.25-in l x 22.75-in w
Table dimensions: 48-in l x 23.75-in w x 33.25-in h
1/2-in thick x 8-in wide, engineered wood cabinet covered in a durable, maple PVC melamine
1/2-in thick, reinforced, L-shaped legs provide strength and stability
A cross support bar and 3.5-in leg levelers provide rugged strength and stability
Ergonomic, easy-grip, ABS handles
1/2-in diameter, telescopic, chrome-plated steel safety rods
3-goalie configuration with durable ABS molded players - 13 players per team
Manual slide counters for easy score keeping
Convenient, end ball return - keeps the ball in play for fast-paced action
Includes (2) 32-mm foosballs
Description
The 48-in Metropolis Foosball table is a dynamic, action-packed foosball table that will delight your friends and family. Designed to withstand the toughest competition, the Metropolis features state-of-the-art telescopic rods that protect you from aggressive play. Its ultra-smooth playing surface allows the foosballs to easily glide across the playfield, adding to the speed and excitement of the game. This table features dual abacus score keepers, providing a vintage accent to this modern table. Goal boxes with built-in automatic end ball return, keep the fun rolling. And, you won't have to worry about stress and strain with the Metropolis' ergonomic, octagonal, ABS handles. ABS-molded players and a sturdy leg support system, with oversized levelers, provide long-lasting durability. 180-day limited warranty.
Attributes
Brand: Hathaway
UPC: 672875950744
Color: Maple
Materials: MDF,ABS handles and players
Assembly Required: Yes
Assembly Time (min): 45
# of Each: 1
Playfield Dimensions: 41.25-in L x 22.75-in W
# Players: 2-4
Games Included: Foosball
Leg Levelers: Yes
Scoring System: Manual
Choking Hazard: Yes
Composite Wood Cd: 6
Manuals & Warranty
Warranty
Manual
Spec Sheets:
http://images.salsify.com/image/upload/s--GnW9zYSS--/xrjjdftdt6r3fqbwhbfv.pdf
Recently Viewed