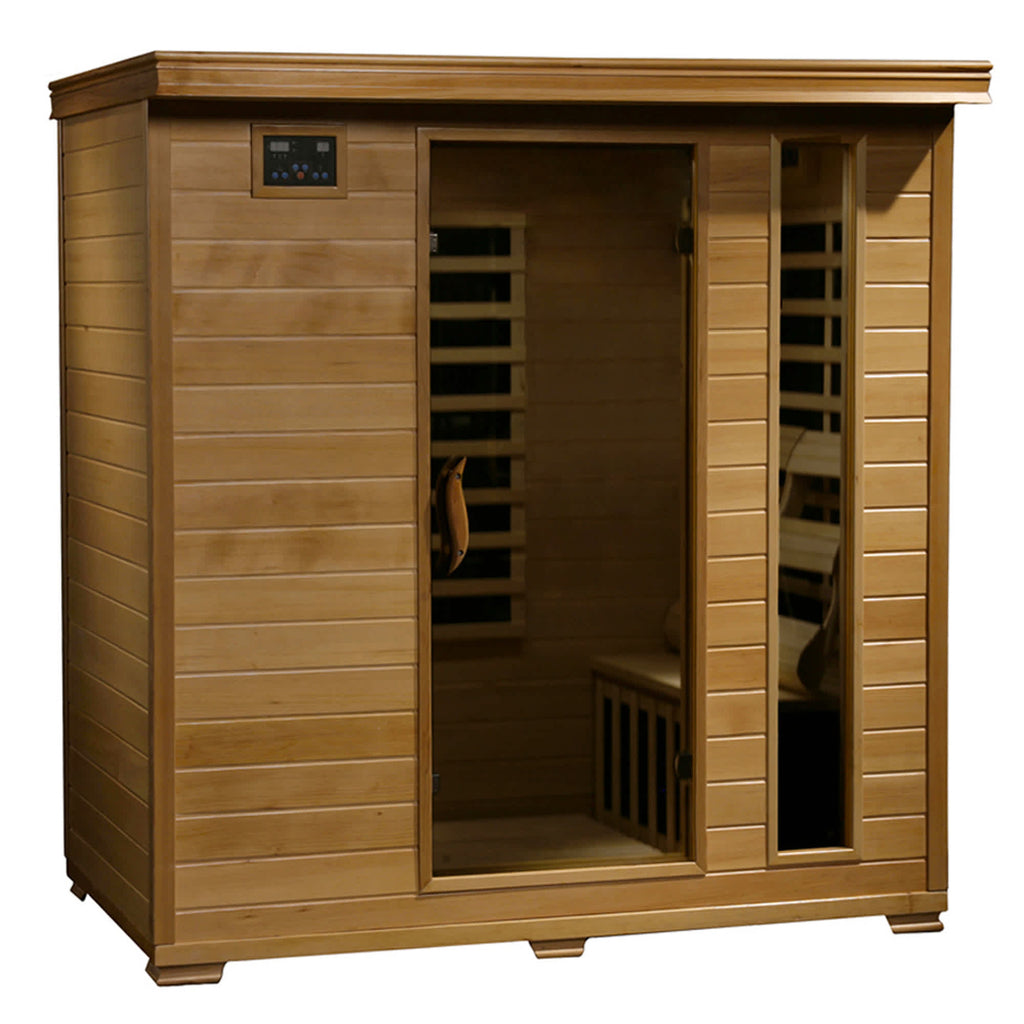 Monticello Sauna
Brand:
HeatWave
ITEM SA2418
Details
Backed by CE, CETL, RoHS and ISO 9001 certifications: internationally-recognized seals of quality, safety, and professional manufacturing
Canadian hemlock construction insulates and resists scratching
(9) low-EMF carbon infrared heaters; 2200W; operates up to 140 degrees F
Chromotherapy lighting system
Integrated sound system with CD player with AUX input and radio
Simple-to-operate LED control panel
Bronze-tinted, tempered glass
Adjustable roof vents bring in outside air; oxygen ionizer purifies the air
Requires 120V / 20A power
Seats up to four adults
7-year limited warranty on wood structure; 5-year heating and electronics; 1-year radio
Description
Bring the resort home with this beautiful, three-person FAR infrared sauna. This luxurious sauna room is constructed from Canadian hemlock. An excellent insulator, this sauna minimizes power usage and maximizes relaxation. Ease the stress of the day by surrounding yourself in soothing warmth from the nine, perfectly positioned, carbon heaters. A full-spectrum, color therapy system and an integrated sound system enhance your experience.
Attributes
Color: Natural,Clear
Materials: Hemlock
Assembly Required: Yes
Assembly Time (min): 45
# of Each: 1
Interior: # Lights: 4
Exterior: # Lights: 3
Interior: Light Type: MR11 LED
Exterior: Light Type: LED
Interior: Light Watts: 0.9W
Exterior: Light Watts: 0.9W
Interior: Lumens: 21-LM
Exterior: Lumens: 21-LM
Interior: Light Details: Spotlight Lamp
Exterior: Light Details: Spotlight Lamp
Power Source: Electric
Power Details: 120V
Choking Hazard: No
Glass Door: Tinted, 23.25-in W x 60.875-in H x 8-mm thick
Interior Dimensions: 68-in W x 35-in D x 68.5-in H
Manuals & Warranty
Warranty
Manual
Spec Sheets:
http://images.salsify.com/image/upload/s--Y2OBmKhc--/lusvqywl3dq1ujpzvksa.jpg
http://images.salsify.com/image/upload/s--e-zzwlR8--/hh94azfxdqbqe33mhqtb.pdf
Recently Viewed