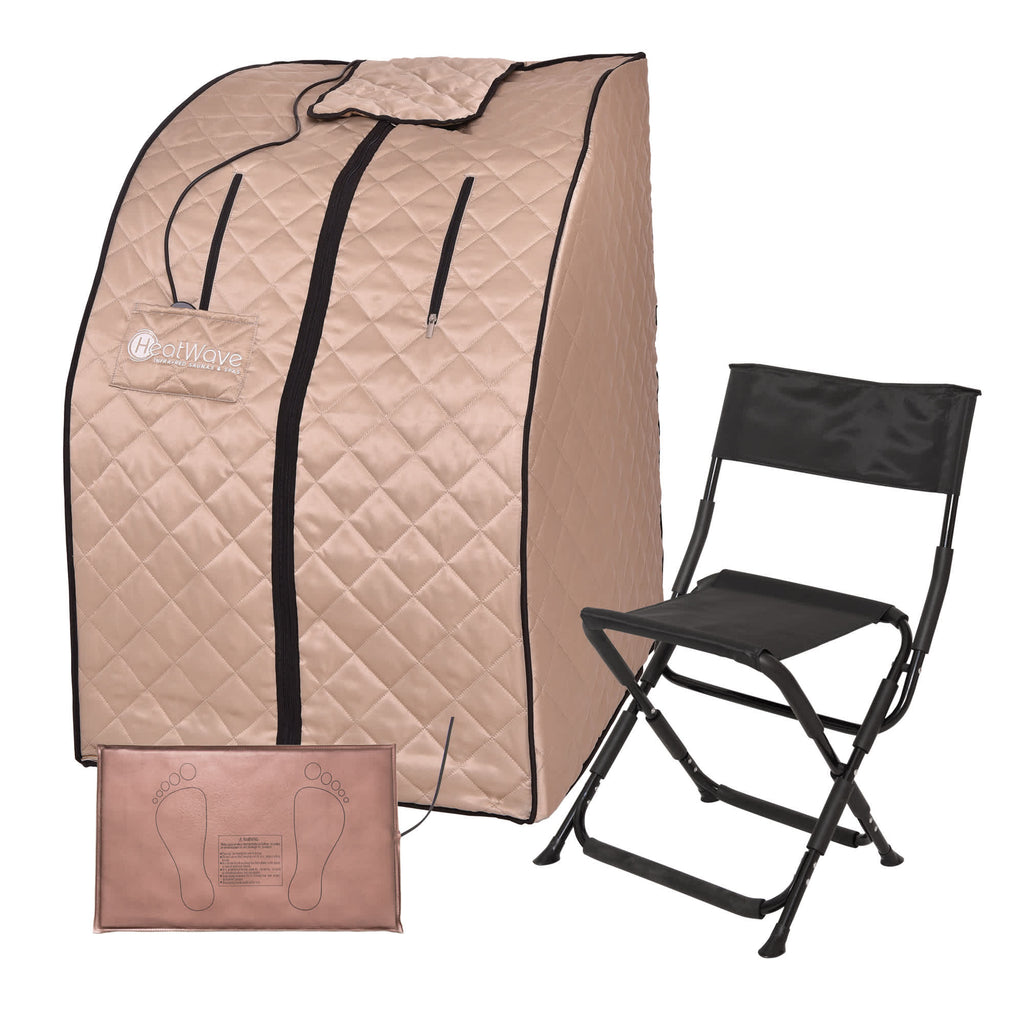 Valerian Portable Sauna
Brand:
HeatWave
ITEM SA7015
Details
Three, carbon fiber heating panels provide soothing warmth
Hand-held controller with six automatic timer options and six levels of preset heat options
Padded, double-lined comfort collar contains heat within the unit
Removable, heated foot pad and wooden foot massager
Triple-layer, polyester fabric resists moisture
Sewn-in pocket provides storage for phones and other devices
Two, zippered arm holes allow for reading or looking at a phone or tablet while relaxing
Foldable, portable chair with metal frame
Chair dimensions: 14.6-in W x13.4-in D x 29.1-in H; Seat height: 14.6-in; Weight limit: 220-lbs
Exterior cabin dimensions: 26.8-in W x 32.3-in W x 39.4-in H
Interior cabin dimensions: 26.3-in W x 29.3-in D x 38.3-in H
Power supply - 110V/60MHz with 6.5-ft cord;1000Wprovide heat up to 150 degrees F
1-year limited warranty
Description
Start relaxing within seconds with the Valerian Portable Sauna. Designed to be used anywhere, this private sauna easily folds open for immediate use. Simply plug it in and start enjoying soothing warmth from the three, precisely placed carbon panels. The included, quick-set, canvas chair is perfectly designed to fit within the sauna, and is supported by a sturdy, metal frame system. A heated foot pad and a wooden foot massager provide additional comfort. When you're finished, this space-saving sauna easily collapses for storage or transport.
Attributes
Brand: HeatWave
UPC: 672875005871
Color: Gold,Black piping
Materials: Polyester
Assembly Required: Yes
Assembly Time (min): 10
# of Each: 1
Power Source: Electric
Power Details: 110V
Choking Hazard: No
Interior Dimensions: Interior Cabin: 26.3-in W x 29.3-in D x 38.3-in H; Folded: 24.4-in W x 9-in D x 39.4-in H; Chair: 14.6-in W x 13.4-in D x 29.1-in H; Seat Height: 14.6-in H
Recently Viewed